Last week, we started our examination of toxic stories about mold in Illinois, Florida, New York, and California in this four-part series. This week, we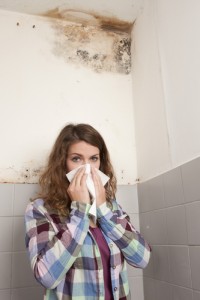 continue down this moldy road into Chicago and New York.
"The Whole Building is Leaking like a Sieve."
In the leafy Ukrainian Village neighborhood in Chicago, Josh Bizar purchased his breathtaking newly constructed penthouse unit at 849 North Rockwell – a small three-unit condominium building. In 2004, he paid $343,000 for the two-bedroom, two-bath unit.
The original advertising promotion proclaimed: "Only the best in finishes. Custom kitchen with cherry, granite, and stainless-steel appliances, hardwood floors throughout, and contemporary-styled baths with marble and granite accents. Unit boasts 12-foot ceilings and fabulous views from private rooftop deck."
Four years later one of the units had been abandoned to foreclosure and the other unit was occupied by an non-English speaking couple. Bizar, in his 30's began having trouble breathing the air in his own home.
"When it rains, I have to take off work to go home and empty the buckets of pots of water. Everything is leaking. The water is coming in through the drywall, the windows, and the ceiling. There's mold everywhere and I can't breathe."
Although Bizar is the president of his small association, it is by default. No one else would – or could – step up. The moisture and leakage problems could not be fixed because the necessary special assessment to cure the leaks could not be levied without all three owners in agreement.
Estimated costs to cure the problem were in the tens of thousands of dollars – or more. Completely alone in his battle with nowhere to turn, Bizar tried to sue the original developer but found he had long since disappeared. urther, the insurance company refused to insure the builder's defects.
"It's a nightmare property," Bizar said softly. He paused, "I'm exhausted. IT's just too much on my shoulders – for any one person to bear."
Luxury Living with Resident Alien Mold
Owners at Northside Piers, a 450-unit twin-tower complex on Kent Avenue in New York's Williamsburg Brooklyn neighborhood, report they were promised "luxury living" only to have their dreams shattered after buying pricey units built with "shoddy" construction.
Owners interviewed by the New York Post said their walls are leaky and poorly insulated; mold is growing in the walls; and there are faulty plumbing, sewerage, heating, and air-conditioning systems – all sources that provide perfect moisture for breeding mold growth.
The sky-high shimmering glass-box building features walls of windows that overlook the waterfront and to-die-for Manhattan skyline views. According to the residents, the views come at a steep price. Many window are tapes around the panes, but rain and air still blow through them.
Despite the claims of unabated growing mold, and an responsive board of managers, a 2,200-square foot penthouse unit is offered for sale by the developer at an affordable $2,477,990. That's only $1,126 per square foot – a bargain compared with Manhattan prices. There's no additional charge for the accompanying mold.
"I have lost everything due to black mold. I am slowly losing my fight for life. This has me deathly ill, as my system has no tolerance to fight the toxins that I had been exposed to for some time," said penthouse owner Lisa McCleskey. "I have developed severe asthma and recurring blood clots that have caused pulmonary embolism several times in these last two years. I constantly suffer from pleurisy around my lungs."
McClesky lost her home and all of her material possessions. "The most important to me is the childhood pictures of my kids and graduations and accomplishments. It has been more than two years since I have had to leave my home. It has been remediated four times to no avail. I'm still unable to live in it," she said.