Until now, selling a condominium or homeowner association property was complicated by a lack of information about the association itself.
Contracts were written for these properties, and when the supporting documentation about the association was provided, deals fell through.  Worse yet, failing to disclose imminent special assessments caused financial hardship on buyers and the prospect of lawsuits.
Introducing PARScore from Association Evaluation LLC. It's the result of a standardized process for gathering essential background information on condominium and homeowner association properties. This critical info is not part of an appraisal. And it's not covered in a home inspection, either.
The fact is, 72% of homeowner associations today are underfunded and face "serious financial problems" according to an Association Reserves 2013 study. Imminent special assessments and lawsuits impacting the property may not be disclosed.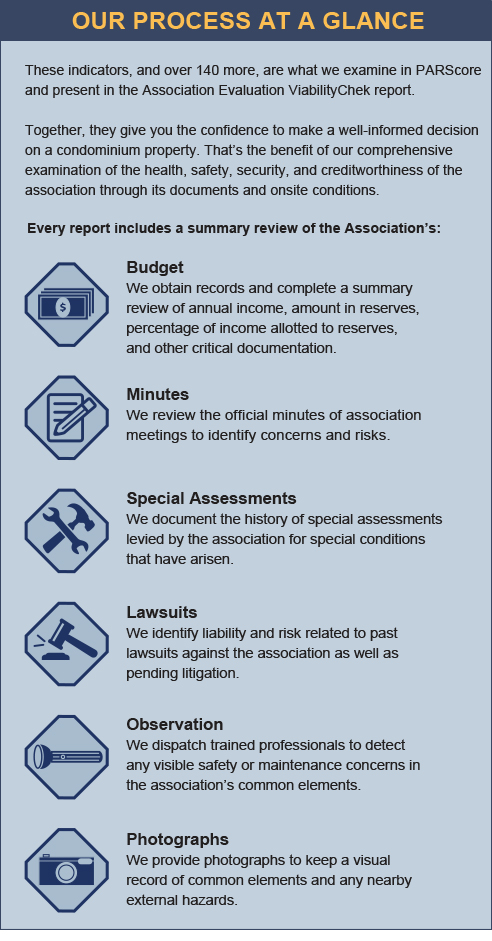 How do I interpret PARScoreTM?
PARScore ranges from 400 to the highest possible score which is 900. We then categorize the numbers by a rating of AAA, AA, A, B, C, or D.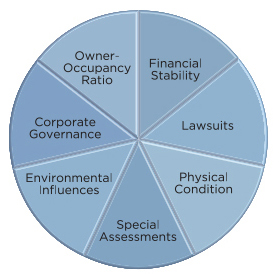 There's more to knowing the score.
PARScore is delivered in our PARReport report. This is a multipage document that goes beyond the PARScore rating to provide a top-line summary of positive and negative factors that our process uncovers and more as you can see from the picture below.
Never sell blind again – register to get our Condo Seller's Kit.
The kit is FREE and full of great advice about how best to present a condominium or homeowner association property for sale. You will also find separate versions of a form, called a "rider," that you can add to a sales contract to ensure your buyer's needs for information are met before you close and to reassure your buyer that their investment is sound.