The concept of a partnership in an HOA community living is a noble one. Peacefulness, harmony, and tranquility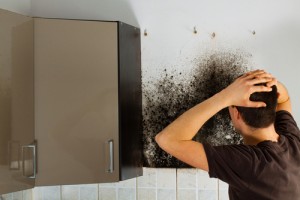 should always be the goal- as well as ensuring the health and safety of the members. However, community associations are not immune to health risks, environmental toxins, and safety concerns. If a problem exists, you are just much closer to it – often with shared walls, heat and air conditioning ducts, plumbing, and sewerage and roofing systems.
Take a deep breath while we examine toxic stories about mold in Illinois, Florida, New York, and California in this 4-part series.
"Help! My Condo is Killing Me!"1
In 2001, Bradley Wells purchased a stunning one-of-a-kind "heavy timber" penthouse loft condominium in an "award-winning" building at 1000 West Washington in Chicago's trendy West Loop neighborhood. The irresistibly dramatic two-bedroom unit has soaring ceiling heights of nearly 22 feet and features both a balcony and a private roof deck overlooking the sweeping downtown skyline. Originally built in 1882, the structure was converted from a vacant biscuit factory2 to residential condominiums in 19963. But three years later, the building was already experiencing problems that resulted in special assessments to the owners.
Shortly after Wells moved into the building, he became ill. He broke out in excruciatingly painful rashes and blisters, which turned into multiple systemic-fungal infections. What began with skin lesions, dizziness, puffiness, high fevers, dry mouth, bleeding tongue, burning eyes, indigestion, heartburn, deformed nail growth, loss of taste, thinning skin, vision problems, and scarring.
The cause was extreme mold contamination in both his unit and the surrounding common areas. There was not only mold, but asbestos contamination. Elevated levels of airborne mold spores and the presence of asbestos were confirmed in an independent environmental report.4
Because the association did not remedy the situation in a timely fashion, several affected owners simply walked away from their units. Brad wasn't lucky enough as to stick a bank with his loss. He had paid cash – something he now regrets.5
"Oh God, I Can't Breathe!"
With Florida's heat and humidity, toxic mold can begin forming in only 72 hours, experts say. Ron McDonald owned a townhome in Tamarac's Woodglen community for more than 30 years. In 2003, he said a contractor covered a hole in the roof with plastic. When it blew off during a storm, his unit was "inundated" with water.
It took eight inexcusably long months for his association to respond to the water damage, and when McDonald discovered mold, it took another three months to have it checked. By then, he had developed symptoms of asthma.6 "I'm unable to breathe," he said.
After a certified mold specialist inspected the ownhome and concluded that living in the unit was "detrimental to Mr. McDonald's health, since he is constantly inhaling airborne mold spores." McDonald filed suit to force his association to fix the problem.
Another Floridian, Steve Serabian, filed suit against his association for mold contamination. He owned a first-floor unit in the four-story Royal Park Condo in Oakland Park for 25 years. But in 2000, water started seeping in through the drywall. He complained to his association leadership and the board began patching the exterior walls.
He never noticed the  mold inside the walls. Three years later, Serabian began having trouble breathing. The situation was so bad that he had to sleep in his car. By 2005, his weight had dropped to 170 pounds from a robust 235. His doctors ordered him to move from his home. Since that time, he not only has had to pay rent on a temporary home, but also has had to pay the assessments, taxes, and a mortgage on the contaminated condo. He, too, filed suit for damages.
---
1. Mark Boyer, "Help! My Condo Is Killing Me!"," Curbed Chicago (blog), October 26, 2010,                
2. According to the association's website, the building housed the National Biscuit Company's (Nabisco's) biscuit and cracker bakeries.
3. From the Cook County Assessor's Records.
4. Report by Occupational and Environmental Health Consulting Services Inc., based in Hinsdale, Illinois, September 28, 2006.
5. Gary Lucido, "Condos That Try To Kill You and Take All Your Money," ChicagoNow.com, Lucid Realty, February 1, 2011.
6. Joe Kollin, "Danger Looms with Mold," Sun Sentinel, August 22, 2007.