Last week, we started our examination of HOA Horror stories about roaches, bedbugs, and rats. This week, we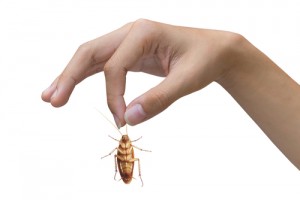 continue our exploration with disturbing stories out of Michigan and New York.
Human Garbage Dump in Michigan
When inspectors checked a unit at the Wingate Condominium Association, just south of Ann Arbor, Michigan, they found rotting meat in plastic bags, decaying animals, animal feces, money strewn throughout the debris, around 30 bicycles, "unknown soft items" in various states of decay, and mold and raw chicken stuffed in the mailbox. Mice and rats were living in the heating vents and ducts of the low-rise property. Because their skin felt like it was being bitten by tiny insects, building officials wore disposable, protective outerwear and respirators while inspecting the home.
"It's absolutely the worst scene you can imagine, in terms of just the nightmare of decaying food and rodents," said township attorney Doug Winters. "It's almost like a human garbage dump." The condominium association and its property management company had to be ordered by a court to have the abandoned property completely cleaned and cleared.
New York Cleanup  
In one chic Upper East Side co-op, a reclusive owner had lived in the building for 20 years and had never permitted anyone into her apartment. It wasn't a problem until a water leak began infiltrating the unit below.
"The entire apartment, floor to ceiling – and they were 10.5-foot-high ceilings – was filled with garbage bags," recalls the board president. The debris was so thick that initially, the plumber could not find the source of the leak.
When the shareholder refused to work out arrangements with the board, they sued for eviction, arguing that the shareholder was in violation of her proprietary lease by failing to keep her unit in a habitable condition. She was given an ultimatum: either clean up or leave.
Suing for eviction was beneficial. The shareholder hired an attorney, whom the board insisted come out and personally inspect the apartment. That did the trick, said the president. The shareholder signed an agreement stipulating that she would remedy the problem within a certain time period, and if deadlines were missed, she would pay a fine. The agreement also gave the board the right to inspect her apartment on a periodic basis.
Is Hoarding Entertaining?
Apparently, Americans find hoarders fascinating. Recent series of reality television shows and documentaries have included TLC's Hoarding: Buried Alive and A&E's popular Hoarders. But when a hoarder lives next door or across the hall, it isn't entertaining in the least. In fact, it's a healthy and fire hazard.
Whether treasure or trash, compulsive hoarding is characterized by the excessive acquisition of stuff- mostly useless- and the inability to discard it. Hoarding has been associated with health risks, impaired functioning, and poor sanitation, and it negatively impacts personal and familial relationships.
Many hoarders have piles of debris to the ceiling with tiny pathways cutting through the clutter. Others have to climb over mountains of trash in order to move around. Hoarding becomes problematic when it crosses the line into health, safety, sanitation, and welfare issues.
Amid the piles of debris are often found rotting food, maggots, rats, roaches, vermin of every type, and animal feces. Hoarders can be difficult to spot, and an association may not know a problem exists until an emergency erupts.
"Hoarders tend to be antisocial and often won't let anyone into their units," said Tom Skweres, president of Wolin-Levin, a Chicago-based property management firm. Symptoms of hoarding may include foul odors, insects or vermin coming from a unit, and window blinds that are always closed.
Miami property manager Gloria Donnelli, owner of Elite Management Associates, said that she has had to call the fire marshal to explain the situation to owners. Her management company posts signs that there will be a fire department inspection on a certain day and time. Upon the department's inspection, she then has the firemen explain the life safety issues involved with hoarding. They also explain the danger involved and how the situation puts other unit owners at risk.
"In Chicago we deal with this on a frequent basis," said the late Mark Pearlstein, a condominium attorney. "The first step is to contact the family, but in most cases family members want nothing to do with the individual. The second step is to contact the neighborhood community police officer, who, if they respond, will notify the Board of Health and may refer the individual to a care facility on a temporary or permanent basis."
Pearlstein stated: "More often, with a younger person, we advise the owner with a cease and desist notice that they have 48 hours to clean the  unit or we send in ServiceMaster to clean the premises and restore it to a sanitary condition. If the owner resists access, we seek an emergency injunction. Management or staff will often find insect infestation, thus justifying the emergency."
In dealing with a hoarder, David Hill, an Atlanta, Georgia, community association manager, found that "in the end, the association had to obtain a court order. By the time we were able to enter the unit, the hoarder managed to accidentally burn the building down."
Living inside a community-governed association requires neighborly involvement. Be sure to look for warning signs of hoarding and be vigilant about any insect or vermin infestations in your building.